Film Music Book Store contains more than 100 books.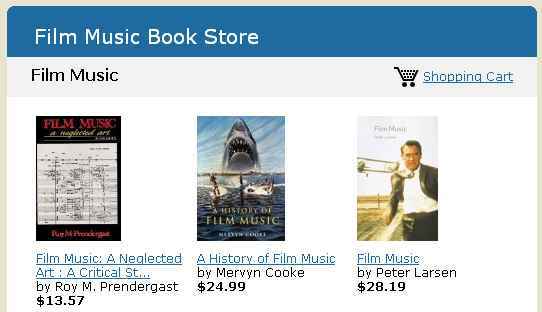 Film Music Book Store
MIX ARTICLES
Christmas With the Kranks
by Matt Hurwitz (Mix Jan 1, 2005)


Recording the Score for Troy
by Matt Hurwitz (Mix Jul 1, 2004)


Paul Hartwig - He's Gotta Be in Pictures
by David John Farinella (Mix Apr 1, 2004)


A Day in the Life of a Scoring Stage
by Maureen Droney (Mix, Apr 1, 2004)


Live Orchestra for The Hobbit
by Rod Abernethy (Mix, Oct 1, 2003)


Yuki Kajiura - composes for movies, musicals, video games and, anime by Bryan Reesman (Mix, Oct 1, 2003)


Zimmer Walks the Plank With 'Pirates'
by Sarah Benzuly (Mix, Sep 1, 2003)


Lisa Gerrard: The Color of Sound
by Bryan Reesman (Mix, Feb 1, 2003)


Composer Spotlight: Mychael Danna, Globe-Trotting Visionary
by Bryan Reesman ( Mix, May 1, 2002)


Composer Glover Gill
by Sarah Benzuly (Mix Apr 1, 2002)


Composer Spotlight: Richard Wolf
by David John Farinella (Mix, Jan 1, 2002)

from Film Music Magazine

from CinemaTrax
---
Study Units (from center for instructional technology development, University of Toronto)

- The Composer's Toolkit
- The Performer
- Music as Drama
- Case Studies (The Empire Strikes Back, West Side Story)
---

- the art of film and television music
The source for information on composers, recording companies, retailers, manufacturers, etc. Searchable database,soundtrack reviews and even a list of release dates
.
Film Music Magazine is a monthly trade publication for professionals in the film and television music business, and includes news, feature articles, investigative reporting, and an event calendar

Reviews of recent motion pictures

Online Magazine of Motion Picture and Television Music Appreciation

New movie music news and rankings.

Reviews of modern soundtracks, tributes to past and present composers, auctions for rare soundtracks and information for the serious collector .

Soundtrack albums and their music , and the recording quality and the engineers that worked on them

Express the world of movie music with spotlights on the artists behindthe music.

This site has detailed information on the history of music in silent and early sound films.


Film Sound Design www.filmsound.org
Oxford University: "...an excellent collection of resources and links.."
SOUNDSCAPE: Exploring the Art of Sound with the Moving Images
The School of Sound Lectures 1998-2001
"Provocative examinations of modern film soundtrack and the way sound combines with image in both art and entertainment" - Cinescape
FILM MUSIC BIBLIOGRAPHY
[ HOME ]