LJUDVÅGEN
THE SOUND WAVE AWARD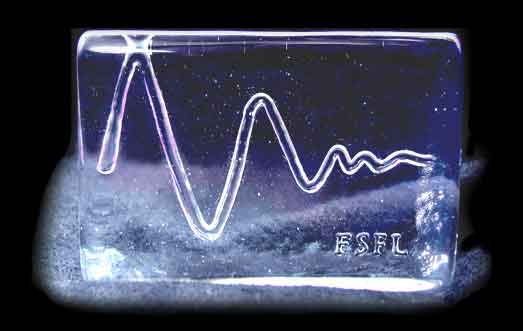 The annual LJUDVÅGEN 2004 (The Sound Wave Award) went to one of our honorary members Sven E Carlsson for his extraordinary work on his website FilmSound.org
There are many in our field worth every kind of admiration and stimulation, besides a prize or two. But most of us act professionally, it's our trade.
There are, however, also a few true enthusiasts among us, impelled by his or her interest, or rather devotion. Sven E Carlsson is one of those deeply inspired persons.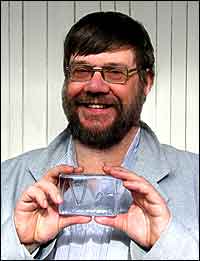 Without any kind of financial support, Sven has devoted immense power and a large amount of his time creating the most important forum on this planet for professional users of sound design, film-school students and the rest of all film sound buffs in the world. 'filmsound.org' and 'sound-article-list' are masterpieces created by a master.
That a web-site read by colleagues all over the world, is Swedish is something that we are mighty proud of.
Thank you, Sven, for your incredible commitment. As a little gesture of our appreciation we would like to present to you this year's LJUDVÅGEN
Klas Dykhoff
Föreningen Svenskt Filmljud, FSFL
(The Swedish Cinema Audio Society)
Klas Dykhoff's speech was inspired by an e-mail from Randy Thom:
For everyone on our planet who is interested in Sound Design, as well as those yet to be born who will be interested hundreds of years from now, Sven Carlsson has made a deeply valuable contribution by creating filmsound.org and sound-article-list. What a magnificent achievement!
With little or no funds from the outside, and working entirely on his own, Sven has created a center of interest for practitioners of sound design, students, academics, and film sound buffs by the thousands.
I visit filmsound.org and read the list daily, and I find it a wonderful resource of ideas that improve the quality of my own work.
Thank you, Sven!
Randy Thom
Skywalker Sound
Marin County, California
LJUDVÅGEN - THE SOUND WAVE AWARD
Design: Svante Biörnstad
Manufacturer: Stockholms Glasbruk
Photo: Stefan Ek

>> Föreningen Svenskt Filmljud FSFL.se
>> Randy Thom
>> FilmSound.org -> Site Map