Emotional realism
---
The same sound can serve both the physical and the emotional meaning. It is possible to superimpose the emotional realism over the physical of the scene. The sound track reflects the mood of the story and the characters feelings.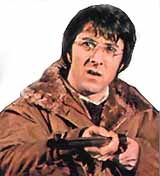 Peckinpah's Straw Dogs [1] includes gunshots and shattering glass as well. Peckingpah even uses emotional realism to heighten character's primal feelings. At a church social off-frame sounds expresses a woman's emotions about to being in the same room as the men who raped her. The shrillness of children's noise making gives the church social a relentless disturbing quality.

in Francis Coppola's Tucker: The man and his dream [1], sound designer Richard Beggs was pressed to find rhythmic acoustic elements (tied to manufacturing and cars) that could be used dramatically.

---
The air compressorů
starts up, makes a rhytmic pumping sound and goes for a while.
shuts down with a very characteristic sound (when the tank reaches capacity)
is quite (either until the pressure drops naturally or it is used with some tool)
turns on with a characteristic sound
starts up and goes for a while
et cetera
---
Beggs used the sounds of the compressor in several scenes to create a sense of tension. Like in the scene where Tucker explodes after the cars designer Alex Tremulus is almost crushed by the car. The sounds of the compressor is used at the beginning of the scene. It stops at a very critical point. The fact that it stops helps to create ambience and mood that is dramatic in nature.
Emotional realism is a kind of "antromorphic mirror" placed in the diegesis. In the same manner as music does, the soundscape reflects the mood of the story and the characters feelings.
Emotional realism is the result of internal logic (a Michel Chion term)


---

(1)
If you want to study the examples mention above you can buy the films at Internet stores as Amazon.com




---

Edited excerts from..

FilmSound.org www.filmsound.org
Oxford University: "...an excellent collection of resources and links.."